Park Pathway
Lafayette Park's new pathway is approximately the same width as the prior pavement, but our new pathway is several feet away from the row of cherry trees. This allows school delivery trucks to stay on the roadway and avoid damaging the cherry trees. It is important to note that this pathway is primarily for pedestrian access and the only vehicular traffic permitted are the few authorized trucks which have large deliveries to the rear of the school. New signage will be posted to this effect, but is important that everyone in the community abide by this requirement in order to keep our park vehicle free and safe for the children.
A Garden Treat!
John Kelly's column in the Washington Post of Tuesday, November 1, 2011, has a nice mention about a memorial for a gardener named Ted Farber, who had an affection for tulips. In his honor bulbs are being planted around the DC metro area. His daughter, Sandy, the coordinator of UDC's Master Gardener program has distributed 2800 bulbs to be planted in many places around the city. Thanks to Maggie Heyward, who is finishing her Master Gardener volunteer hours, the Friends of Lafayette Park have 300 small Bronze Charm tulips being planted in our park along 33rd Street near the sidewalk where they will be popping up in the Spring. FOLP and the garden group really appreciates being included in this lovely memorial.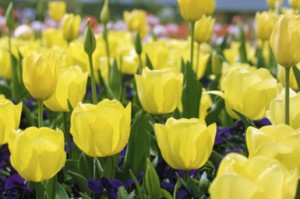 Amphitheater Repair Project
The Friends of Lafayette Park (FOLP) is happy to announce that the amphitheater underwent extensive repairs in August 2011. The rehabilitation project was completed at the beginning of the school year 2011-2012. The FOLP and the Lafayette Home and School Association (HSA) paid for and managed the project – through funds from the generous support of neighbors and Lafayette school families. The amphitheater, which is adjacent to the ball field and originally built in 2001, had fallen into disrepair from heavy use. It has now regained its position as a wonderful asset for the park.
Drainage Work
Lafayette park's new drainage project located at the top of the hill, will help alleviate the erosion problem on the ball field track.